A DESTRUCTIVE, BIASED 'SOLUTION' TO A NON-EXISTENT PROBLEM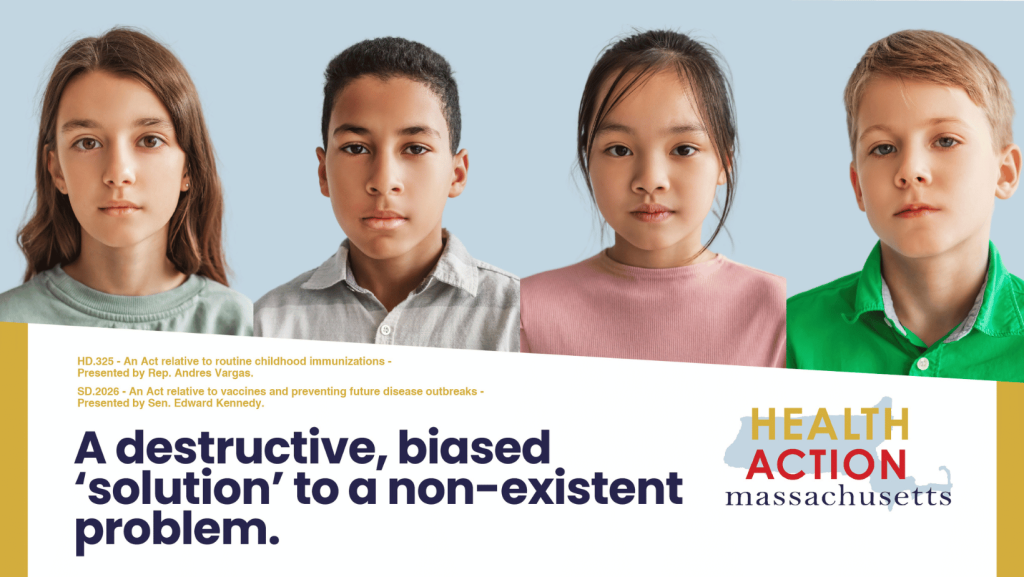 A destructive, biased 'solution' to a non-existent problem - English

These bills would remove the religious exemption to vaccination, which would deny in-person schooling to children who desperately need it, including those from communities of color and underprivileged backgrounds, and those with special needs.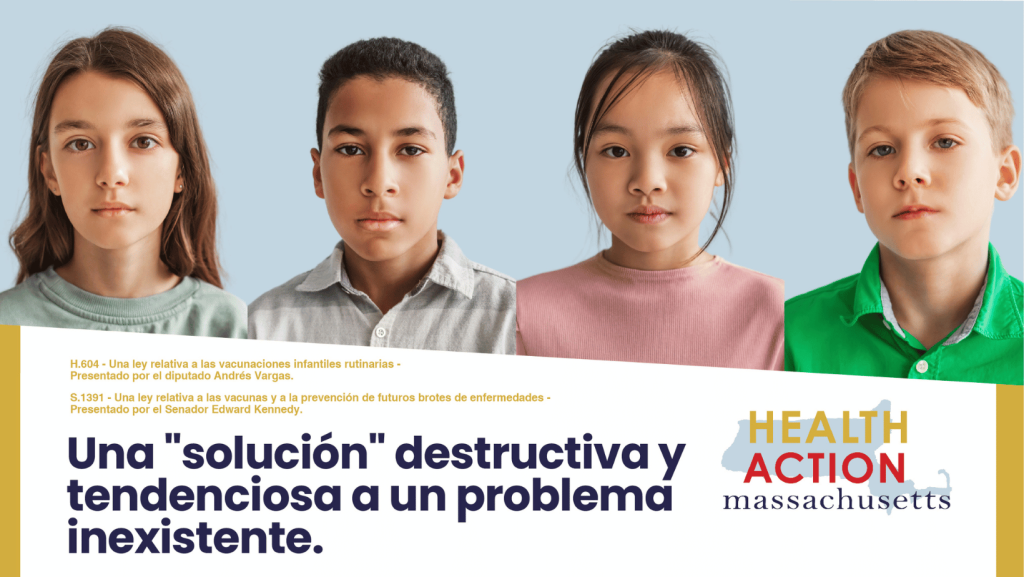 Una "solución" destructiva y tendenciosa a un problema inexistente - Español

Estos proyectos de ley eliminarían la exención religiosa a la vacunación, lo que negaría la escolarización en persona a niños que la necesitan desesperadamente, incluidos los de comunidades de color y entornos desfavorecidos, y aquellos con necesidades especiales.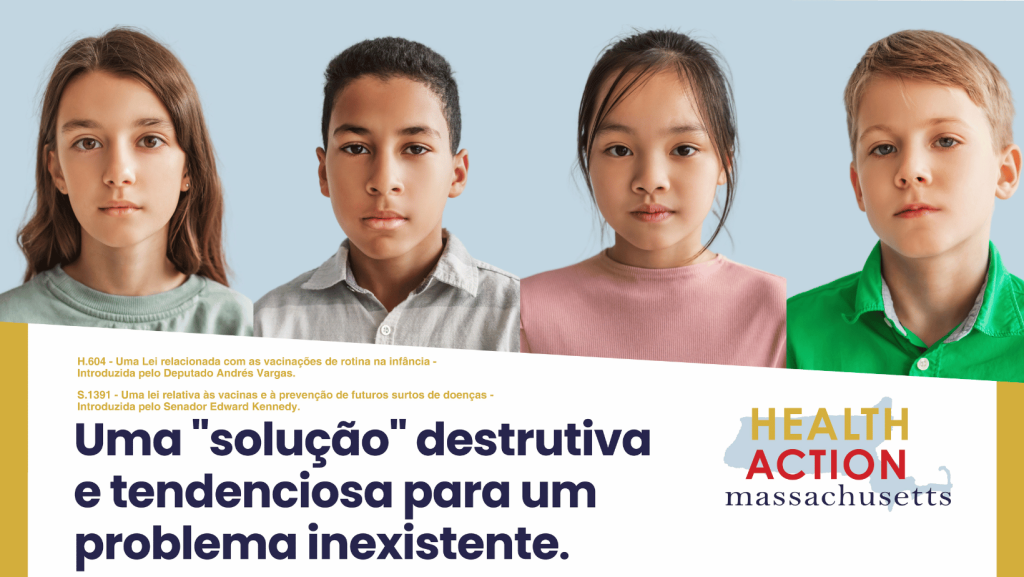 Uma "solução" destrutiva e tendenciosa para um problema inexistente - Português

Estas leis eliminariam a isenção religiosa à vacinação, negando a escolaridade presencial às crianças que dela necessitam desesperadamente, incluindo as de comunidades de cor e de meios desfavorecidos, e as que têm necessidades especiais.


IMPLICATIONS FOR THE SPECIAL NEEDS COMMUNITY
Removal of Religious Exemptions for Vaccination - Implications for the Special Needs Community - English

The proposed bill is unnecessary and imposes enormous hardship on some of the most stressed and vulnerable populations in the Commonwealth: families with children with special needs.


Supresión de las excenciones Religiosas para la Vacunación - Implicaciones para la Comunidad con Necesidades Especiales - Español

El proyecto de ley propuesto es innecesario e impone enormes dificultades a algunas de las poblaciones más estresadas y vulnerables de la Commonwealth: las familias con niños con necesidades especiales.
Abolição das Isenções Religiosas para a Vacinação - Implicações para a Comunidade de Necessidades Especiais - Português

O projeto de lei proposto é desnecessário e impõe enormes dificuldades a algumas das populações mais estressadas e vulneráveis da Commonwealth: famílias com crianças com necessidades especiais.
OPPOSE PROPOSED BILLS H.604 & S.1391
Oppose Proposed Bills H.604 & S.1391 - English

Get answers to commonly asked questions, such as:
- How will these bills affect me?
- My child has an IEP, will I be affected?
- Does the bills affect private schools?
- I homeschool, why should I care?
- My children are up to date on all they vaccines, why should I care about these bills?
- What is the timeline?
Oponerse a los proyectos de ley propuestos H.604 y S.1391 - Español

Obtén respuestas a preguntas frecuentes, como:
- ¿Cómo me afectarán estos proyectos de ley?
- Mi hijo tiene un IEP, ¿me veré afectado/a? - ¿Los proyectos de ley afectan a las escuelas privadas?
- Yo educo en casa, ¿por qué debería preocuparme?
- Mis hijos están al día con todas sus vacunas, ¿por qué debería preocuparme por estos proyectos de ley?
- ¿Cuál es el cronograma?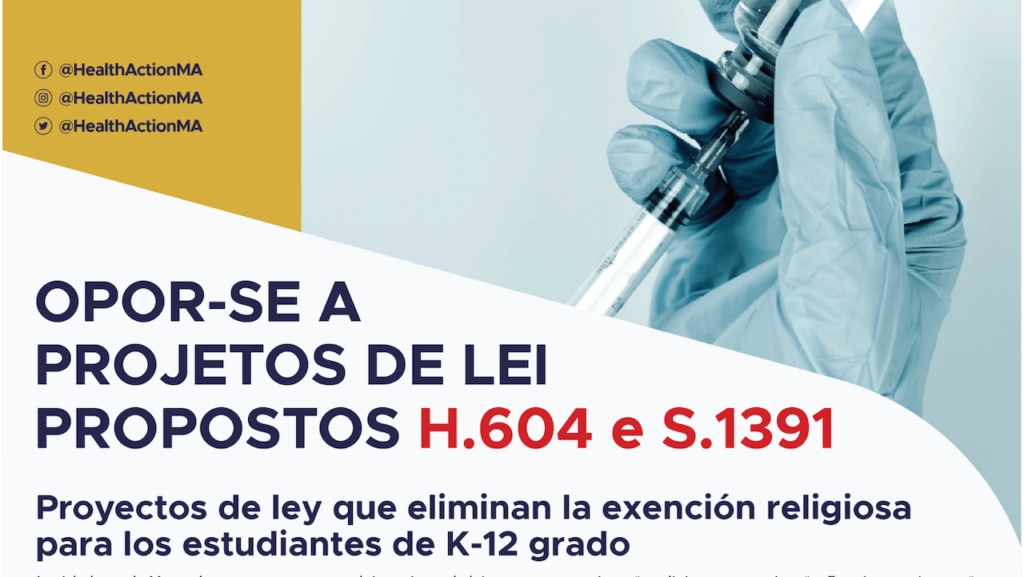 Opor-se aos projetos de lei propostos H.604 e S.1391 - Português

Obtenha respostas para perguntas frequentes, como:
- Como esses projetos de lei me afetarão?
- Meu filho tem um IEP, serei afetado?
- Os projetos de lei afetam as escolas particulares?
- Eu educo em casa, por que devo me importar?
- Meus filhos estão com todas as vacinas em dia, por que devo me importar com esses projetos de lei?
- Qual é a linha do tempo?